Aluminum Sand Casting Services
Buffalo Metal Casting is a single-source supplier of aluminum castings and parts. Every part of our process is performed in-house when creating your aluminum sand cast parts, meaning you can be assured of the quality when you work with us.
Having been in operation since 1975, we know this process inside and out and can guarantee you a top-notch finished aluminum casting as your final product. Because of our highly capable furnace facilities, we can pour nearly any commercially available aluminum to cast your part. For your aluminum sand casting, the aluminum alloys we offer include:
Aluminum alloys: 319, C355, A356, D712
Zinc aluminum alloys: ZA8, ZA12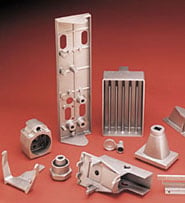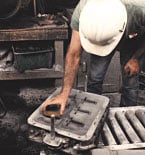 We Utilize A Variety Of Aluminum Sand Casting Methods
The advantage of aluminum sand casting is that this process can manufacture almost all parts, ranging in any size you may need. It is lower in cost, but grants a lot of flexibility in pattern design, size, and amount. Our products are made as cost-effectively and as efficiently as possible. At Buffalo Metal Casting, our facility creates aluminum sand castings of the highest quality, and we strive to meet the needs of each and every customer. The following are the methods available to choose from when creating your aluminum sand casting.
Aluminum Sand Casting with a Permanent Mold: A possible aluminum casting process that uses a reusable mold made of metal to cast parts.
Green Sand Aluminum Casting: A process best for small to medium castings that uses molds made from sand, clay, flour, and water, which is reusable.
Aluminum Casting Using No-Bake Sand: A method best for medium to large size parts, that employs sand, resin, and hardening catalysts to create molds, creating a better surface finish on castings.
Precision Shell Sand for Aluminum Casting: Another process for small to medium parts, however, this process uses non-reusable sand that is blown onto preheated iron patterns to create molds.
Harrison Flaskless Matchplate Mold Machine: This is a mold-creating machine that employs the green sand aluminum casting method.
Contact Us For Aluminum Sand Casting Services Today
We know that when you need aluminum castings, they need to be perfect to fit your project specifications. Quality assurance and customer service are always top-of-mind when you choose Buffalo Metal Casting! If you're in search of the best company to create your aluminum casting, contact Buffalo Metal Casting first. We'll create your part efficiently and affordably. Call us today, or click below to request your free quote.