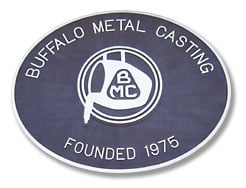 Buffalo Metal Casting Co., Inc. began operations in 1975 as a business venture of Paramount Pattern Works, Inc., a family-operated company that constructed patterns and tooling for foundries in Western New York and Pennsylvania. Embarking on a plan to own a foundry and supply the necessary patterns, Paramount Pattern purchased the Metal and Alloy foundry building and equipment, which had been closed for two years. The facility reopened in 1975 as Buffalo Metal Casting Company, Inc.
Buffalo Metal Casting grew steadily during the next 20 years. In 1995, all pattern making and machining operations were consolidated as part of Buffalo Metal Casting in the company's present facility.
Buffalo Metal Casting has continued to grow under its new management team by embracing the concept of single-source capability and reliability to meet its customers' needs. From pattern construction to the finished machined casting ready for customer production, Buffalo Metal Casting provides all services required.