Metals Sand Casting Services
Metal Sand Casting Capacities
Buffalo Metal Casting regularly casts the alloys listed with our metal sand casting services, which present a wide range of chemical compositions and physical properties. Our furnace facilities, however, offer considerable melting flexibility and we are able to pour practically any commercially available aluminum, brass, bronze or copper casting alloy, at capacities of ounces up to one thousand pounds. We offer the following types of metal castings:
· Aluminum Sand Castings (Available aluminum alloys: 319, C355, A356, D712, available zinc aluminum alloys: ZA8, ZA12)
· Brass Sand Castings and Bronze Sand Castings (Available Brass & Bronze alloys: C83600, C86500, C90200, C90300, C90500, C90700, C91600, C95400, C95500)
· Copper Sand Castings (Available in high conductivity copper)
Full Range of Sand Casting Methods
Buffalo Metal Casting offers a variety of metal sand casting methods to assure the most efficient and cost-effective production of your part. Determination depends on your requirements for size, run quantity, and the dimensional accuracy and surface finish required. The following processes are available for each kind of metal.
· Permanent Mold: Permanent mold is a metal casting process that employs a reusable - or permanent mold, usually made from metal. The most common process uses gravity to fill the mold.
· Green Metal Sand Casting: These castings are made using sand molds formed from using a mix of sand, clay, flour, and water. The sand is moist and reusable after being separated from the casting. This process is used for small to medium size parts.
· No-Bake Metal Sand Casting: No-bake molds are expendable sand molds formed from using a mix of sand, resins and catalysts that harden the mold. This type of molding also produces a better surface finish than green sand molds. The sand is not reusable and must be disposed of properly. This process is used for medium to larger size parts.
· Precision Shell Sand- expendable mold casting process that uses a resin covered sand that is blown onto to preheated iron patterns. The sand is blown onto the pattern and bakes the sand on to form the mold. This process has better dimensional accuracy, a higher productivity rate, and lower labor requirements. The sand is not reusable and must be disposed of properly. It is used for small to medium parts that require higher precision tolerances and finishes.
· Harrison Flaskless Matchplate Mold Machine: Automatic molding machine that makes sand castings using green sand. For additional information on this machine please click here.
Loose Pattern and floor molding are also available for prototype and short run production. In addition, we are experienced in casting bi-metallic gear blanks and similar products.
For a complete list of all available services, products, and metal sand casting services at Buffalo Metal Casting, please visit our Products & Services Categories page.
Sample Methods at Work in our Operational Flow: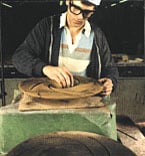 Core Cleaning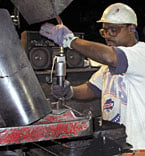 Ramming A Green Sand Mold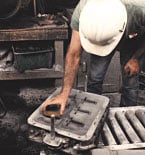 Setting Cores in a Sand Mold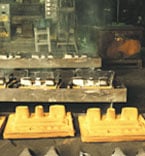 Shell Mold Pouring Line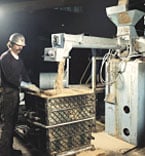 Filling flask from an
automatic no-bake sand mixer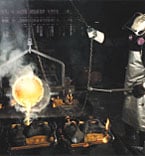 Pouring bronze into shell molds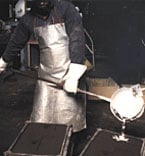 Pouring aluminum into a sand mold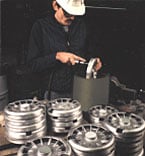 Finishing of aluminum casting