Brass Foundry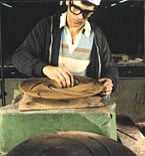 Creating a brass casting for your parts is easier than ever when you have a brass casting foundry that knows what they're doing and how to get the job done. With Buffalo Metal Casting you'll have the opportunity to get the product you need, creating in one of several different ways. That's because we use only the best materials and services to get it done.
About Our Available Brass Foundry Services
The best way to take care of creating your parts is through sand casting and that's exactly what we do, in a variety of different ways depending on the part you need, the budget you have available, and just what you're going to do with it when you're done.
Permanent Mold - At our brass casting foundry, a permanent mold means that the mold itself will be able to be reused, which is great for times when you're going to need more than one or when the mold itself could be used for others as well. This could cut down on your costs.
Green Sand Brass Casting - If you're getting a piece that's medium or small in overall size you may want to use this method, which uses a mold of sand, water, and flour that can actually be used again, making it more useful overall.
No-Bake Sand - With this method, you're going to get a quality piece that is actually better finished than with other methods. The mold itself is also made with sand and resin as well as a hardening agent.
Precision Shell Sand - Designed for smaller items at the brass casting foundry, this method uses sand that's blown over iron and creates a mold that way. The mold itself is generally not as high quality and won't be used again.
Harrison Flaskless Matchplate Mold Machine - With this type of system you get the mold you need for green sand casting. It's going to be one of the better options for a brass foundry.
Get an Online Quote From Our Brass Foundry Today
If you're looking to get a great looking project in the end, any of these can get you there. It's going to be entirely up to you and your business needs. Call us today or request a quote!