Bronze Casting Foundry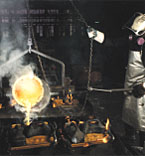 Are you looking for bronze parts for your next project? Do you need to make sure that you have a high-quality bronze foundry ready to get started for you? Well then, you're in the right place because Buffalo Metal Casting is right here and ready to go to supply you with anything you might need from a bronze casting foundry. All we need to know is what method you're going to use to create your parts.
Bronze casting involves creating the pieces that you require, whether small, medium, or large, out of bronze, making it more durable and long-lasting. Bronze casting processes are widely used for creating sculptures, instruments, parts, weapons, tools, and more. Depending on your project, bronze casting is a versatile process that utilizes a variety of molds and materials. An expert bronze casting foundry can make all the difference in the quality of your finished parts.
About Our Bronze Casting Foundry Services
There are a total of 5 methods that we can use to create the bronze pieces that you need, and you can see a little more about our bronze casting foundry options right here.
Permanent Mold for Bronze Casting
This creates just what it sounds like, a permanent mold, that can be used over and over for bronze cast parts you're going to need again and again (which saves you money).
Green Sand
This is a reusable option that's also relatively eco-friendly because it's made with a mixture of water, flour, and clay, and works very well for bronze castings.
No-Bake Bronze Sand Casting
is a method that's great for bronze cast parts that need to be a higher quality than the rest.
Precision Shell Sand
This method uses a type of sand that can't be used again, which means it's not as good for those who are going to need the same product again.
Harrison Flaskless Matchplate Mold Machine
This is actually a type of machine that's used to create molds, which can be more expensive to use.
Contact Buffalo Metal Casting for Your Bronze Casting Foundry Needs
No matter which of these methods you decide to use, the most important thing is that you choose a bronze casting foundry that will get the job done quickly and correctly, to the highest of standards. When you pick Buffalo Metal Casting, you are hiring the best, ensuring you and your customers receive the highest quality parts. Contact the experts at Buffalo Metal Casting to get started with our team of bronze casting experts today.