Copper Casting Foundry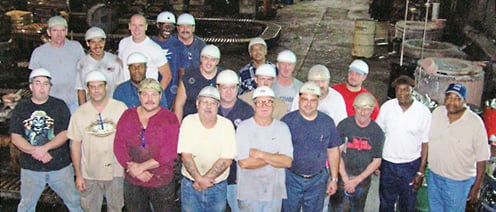 If you're looking for copper casting for any parts you want to be sure that you're getting high quality, durability, and a sleek style, but how do you make sure you're getting all of these things? You work with a copper casting foundry that knows what they're doing.
Our Copper Foundry Services
At Buffalo Metal Casting we offer several different copper casting services that will help you get everything you're looking for, no matter what type of products you actually need. Our copper foundry is ready for you with 5 different options for getting just the right match.
Permanent Mold Copper Casting: With this type of casting we pour metal into a reusable metal mold. This means that if you need additional parts of the same type we'll be able to get them poured for you a lot faster. This can save you time and money in the long run.
Green Sand: At our copper casting foundry we create a mold that's a little more 'green' or eco-friendly. Rather than being made with metal, it's made with more biodegradable parts, including flour, sand, clay and water. We then pour the metal into the mold and are able to make small or medium-sized parts with it.
No-Bake Sand Copper Casting: Here we create a mold of resin, sand and a type of hardening catalyst that is disposed of after it's been used for your mold. We pour the metal into it and we're able to make medium or large-sized parts with it.
Precision Shell Sand: Here we are able to create mold shapes out of iron that will be far more precise than any of the other methods we have. This allows you to get more precision-oriented pieces. We create the mold with sand and iron that's shaped the way you need and then pour metal into it. This is good for small and medium-size parts.
Harrison Flaskless Matchplate Mold Machine: Finally, we have the ability to use this machine to create the mold our copper casting foundry needs for your product utilizing the green sand method that we mentioned. This can make the process much easier for you.
Buffalo Metal Casting Is Your First Choice For Copper Foundry Casting
If you're looking for the best of the best from a copper casting foundry, you're definitely going to find it here, with any of these quality methods.