Aluminum Foundry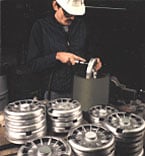 If you're looking for a top-notch aluminum sand casting foundry, then you've found it with Buffalo Metal Casting. We are a single-source supplier, with over 40 years of experience in providing aluminum foundry services, and we know how to get you the best possible parts, for any job you may need.
Our Aluminum Foundry Services
At our premiere aluminum foundry, casting is available in alloys that include:
Aluminum Alloy: 319, C355, A356, D712
Zinc Aluminum Alloys: ZA8, ZA12
Aluminum is widely applied in a variety of industries because it is lightweight, versatile, and resistant to corrosion. Once you know the specific type of aluminum alloy that you're going to need, it's time to take a closer look at the different methods of sand casting that our aluminum foundry can do for you.
Permanent Mold
With this method of casting, we create a permanent mold out of metal. This allows the same mold to be used frequently, making the long-term cost for you lower if you need to return for additional parts from the same mold.
Green Sand Casting
If you're looking for small or medium size castings, our aluminum foundry can use this method to create a mold out of sand, clay, flour, and water. While not as permanent as the metal molds, these are still reusable and can save costs over time.
No-Bake Sand Casting
If your pieces are going to be a medium or large size, you can actually use a mixture of sand, resin, and a hardening catalyst that will form the mold you need. What's great about this is that it creates a smooth finish, which makes the pieces you're creating look even better. It's a little more expensive overall because of the quality of the finished piece.
Precision Shell Sand
For smaller products or at least medium-sized ones, this method is not a reusable one. Iron that is designed in the proper patterns is preheated and sand is blown directly onto that pattern. The sand can't be used for anything else after this, however, so it can be a little more expensive.
Harrison Flaskless Matchplate Mold Machine
Finally, this method is actually a machine that uses the green sand method. So you're getting the same style, but the machine is going to do all the work rather than it being done by hand.
Contact Buffalo Metal Casting, Your Premier Aluminum Foundry
If you're looking for an aluminum foundry that can get the job done for you, then you're in the right place. Check out Buffalo Metal Casting, and we'll get you exactly what you need in no time.