Buffalo, NY Metal Casting Foundry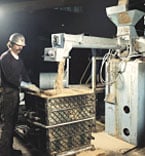 While there are several ways of modeling metal into the desired shape, the casting process offers numerous advantages. The method is associated with design flexibility, a high production rate, and the ability to produce large and complex parts. These make it a popular shaping process when it comes to producing high-quality parts with a great finish. To enjoy these advantages, you will need to work with a reliable metal casting foundry.
Buffalo Metal Casting Foundry and Machining Services
As a leading metal foundry in Buffalo, we offer both sand casting and machining services. We use state-of-the-art equipment that not only improves speed and efficiency but also makes our services affordable. While our sand casting services will help you achieve the desired shapes and sizes, machining services will produce the dimensional accuracy and smooth surfaces you need for your activities.
A Buffalo Foundry Providing Metal Sand Casting Services & More
At Buffalo Metal Casting, no job is too big or too small for us. With our skilled staff and modern equipment, we have a wide range of metal casting capabilities at our Buffalo foundry. Our services are tailored to ensure you enjoy the peace of mind that comes with knowing your project is in competent hands. The processes we use for different types of metals include permanent mold, green sand casting, no-bake sand casting, and precision shell sand.
Wide Range of Materials at Our Buffalo Foundry
The needs of our different clients vary widely. To fulfill these needs, we have developed our capabilities to handle a broad range of materials. Our metal casting and machining services cover aluminum, brass, bronze, copper, and other finished parts. When you make us your preferred metal casting foundry, you can be sure of a smooth process at all times.
Quality and Affordable Products at a Buffalo Metal Casting Foundry You Can Trust
We spare no effort to ensure that all our products are of the high quality that customers expect. Through our efficient processes, you will also get your parts at affordable rates. Regardless of your requirements, you can rest easy knowing you will get quality and value for money.
Buffalo Metal Casting is a local Buffalo foundry that provides dependable metal casting and machining services in Buffalo, NY. Our processes are performed in-house by skilled staff to ensure quality and fast production that meets the needs of our clients. Contact us today to learn more about our Buffalo foundry services and to get a free quote.