Green Sand Casting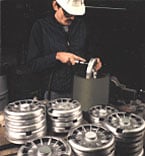 Metal sand casting makes it possible to shape metal without using machines. The process helps to produce complex mold shapes and finished parts that are both durable and inexpensive. Buffalo Metal Casting uses a wide range of sand casting methods to ensure the efficient production of parts. Green sand castings are castings made using wet sand or "green sand" molds. The sand is not green in color however, it is called green because it is used in a wet state. It remains in its green, uncured state even when molten metal is poured into the mold. About 42% of all cast parts in the United States are made using green sand molds.
Here is what to expect when you request our green sand casting services:
Our Green Sand Casting Services
We use this time-tested and versatile sand casting method to produce various metal shapes, particularly for small and medium-size parts. The efficient molding process makes use of wet sand that is recyclable and does not contain any chemical additives. We use fine-grained sand to ensure you get aesthetically pleasing castings with smooth surfaces.
Expertise and Equipment
Our company employs skilled staff and has invested in state-of-the-art equipment, which makes our green sand casting services efficient and allows us to handle casting projects. Our wide range of capabilities provides convenience by allowing you to access all the casting services you need in one place. Regardless of your material choice or complexity of your shapes, we will strive to meet your needs.
High-Quality Green Sand Casting Services at Affordable Prices
We know that rejected parts and rework can result in difficulties and added costs. As such, our processes are supervised and quality controlled to ensure the end product is in line with your specifications. When you require finished metal parts with the right dimensional accuracy, surface finish, and desired shape, you can trust us to deliver quality work. We also strive to make our sand casting services accessible by providing them at affordable prices.
Prompt Service
Delays in the production of metal castings and finished parts can lead to revenue loss for our clients. No matter how big or small a project is, we always work hard to see that we deliver the parts within the quickest time possible. Our expertise and equipment also enable us to meet tight deadlines.
When it comes to casting services, it is critical that you work with a reliable company. Buffalo Metal Casting has been in the business for over four decades and is committed to providing clients with services that meet high-quality standards. Contact us today to find out more about our green sand casting process.