Metals Cast
Buffalo Metal Casting regularly casts the alloys listed which present a wide range of chemical compositions and physical properties. Our furnace facilities, however, offer considerable melting flexibility and we are able to pour practically any commercially available aluminum, brass, bronze or copper casting alloy. No matter your metal casting needs, Buffalo Metal Casting has you covered.
Casting Capacities
Buffalo Metal Casting has a wide range of casting capacities. All Aluminum, Brass, Bronze and Copper: From ounces up to 1,000 lbs casting is available.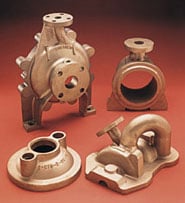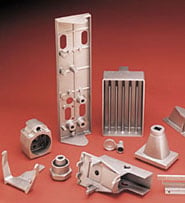 Brass and bronze castings Aluminum castings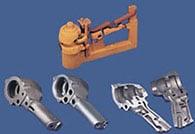 Complicated castings are a specialty at Buffalo Metal Casting. In the background is an assembled six-part shell and oil sand core for a sand mold for making a power tool handle. In front, left-to-right: rough casting, machined casting, and a cross section showing intricacy of internal design.